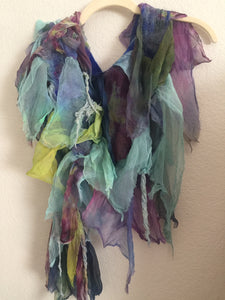 MADE TO ORDER. Silk Scarf: Big Sur
Regular price $249.00 Sale
Silk!
Original Scarf - Shoulder Wrap. Inspired by the coastal waters of California, this scarf reflects the ever-changing soft blues and greens of sea and sky, and the varying colors and textures of marine life.
This beautiful scarf- shoulder wrap is made from hand-dyed, Nuno-felted tissue silk chiffon. The multiple layers "float" around the shoulders as the perfect little cover-up wrap to enhance your outfit. Casual seaside or evening event. Boho background, Cottagecore approved. Original, one-of-a-kind, not found elsewhere.
Update:  Today, in the midst of a horrifying Pandemic, the younger generation (and a  Grandma or two) have designated these very tactile and appealing works made in small indie studios as "Cottagecore" or "Grandmacore" - a contemporary expression of traditional values, executed in newer colors, textures and original styles. Recently, Architectural Digest has documented this trend as "Vintage Maximalism" - over-the-top tactile, colorful, handcrafted fibers, following on the heels of widespread preference for neutral, minimalist decor in homes, office and personal apparel.
Note: These scarves can be twisted, turned and wrapped in many different ways to display the varying colors and textures, reflecting a mood or response to a special event.
Contact me to plan your own custom-designed wrap!  Hand-dyed silk to order!
Sizing
Shoulder wrap:  9-23" x 65-71"  Custom sizes available.