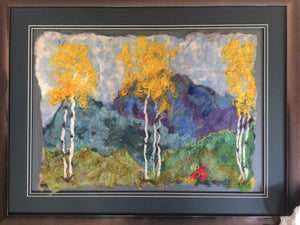 Dallas Divide: Rocky Mountain Aspen - Made to Order
Regular price $1,500.00 Sale
Rocky Mountain Aspen Trees in Fall. Inspired by Dallas Divide - the majestic mountains between Ridgway and Telluride.
Felted Wall Art for Home or Office. Made to order. Custom sizes available. Framed or unframed.
Aspen trees are often called "Quakies" - quaking aspen -  giving soft, audible sounds as mountain breezes brush their leaves. In the Fall, aspen leaves splash mountain sides (and my own property) with brilliant gold color, inviting me to more creative work.
All my art is hand-crafted in my studio from local Colorado fibers - alpaca, llama, curly mohair, Icelandic and merino wool, plus a bit of silk and wolf hair - natural and hand-dyed, needle felted, and wet felted.
I sometimes have additional art pieces on hand. Check with me for descriptions.
Commissions are welcome.  My favorite subjects are from nature - the Colorado mountains seen from my studio windows on the Grand Mesa, or Rock Art subjects - Petroglyphs and Pictographs - encountered in our hikes in the desert Southwest. Previous hand-felted rock art works include Desert Big Horn Sheep, All American Man, Sego Canyon figures - sizes vary. Prices start at $125 for small 8x10 pictures.
Let's talk and find something original for you.
Contact me.  jane@janedupreefiberarts.com
This work is a professionally matted and framed 32" x 40" felted tapestry. Custom made for a private collector in Colorado.