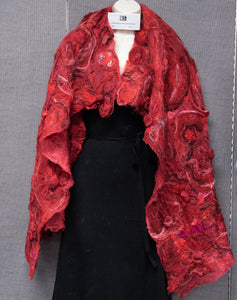 Wheeler Opera House Wrap - Made to Order
Regular price $600.00 Sale
This Silk Chiffon Opera Wrap is one of the most highly acclaimed pieces of wearable art my studio has ever offered!  Dramatic, yet elegantly refined, each piece in this series is an original design, handmade in my studio from 100% silk, felted with fibers such as alpaca, merino, cashmere and curly mohair.
Designed originally for my booth at Aspen Saturday Market, this sample quickly evolved into one of my most popular collections. Other wraps followed, each distinctive in color and design. 
This wrap is red silk chiffon with black hand-felted curly mohair and alpaca design. Similar wraps in black, white and a rainbow of colorful shades have been available at Market or ordered directly from me for weddings, concerts and private gatherings across the country. Each is original and one-of-a-kind.
Interested? Planning a special event? Contact me to discuss your color preferences. jane@janedupreefiberarts.com